Trusted by the Largest List Owners and Brokers in the Industry.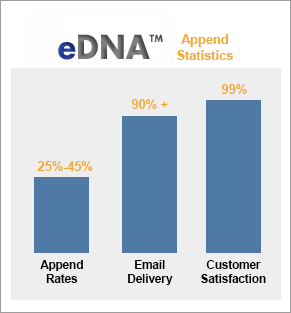 Trusted Source. If you are looking for a partner who you can trust to deliver the best B2B email appends for you and your customers look no further than ListK and our eDNA™ technology.

Award Winning Technology. With ListK's B2B email appending technology, you and your clients can leverage the power of existing business lists by adding the ability to communicate directly to decision makers at their place of business via email. Our proprietary process adds fresh email using search technology - not by matching from an existing, tired list or an offshore data shop. We only add true B2B addresses - never consumer ones.

Quality Guaranteed. ListK leads the marketplace in quality, deliverability and data security. Your source data is in good hands and will never be compromised. We back all of our email appends with a money-back guarantee.

Good Company. We are the source appender for many of the largest data aggregators, list owners, managers and brokers in the industry. Why risk it with a company who is brokering the append?


Technology that does more than match your lists to existing, stale, outdated email lists.
How is eDNA™ Different? We differ from other append companies due to the fact that we do not just 'match' records from a stale database. We use a technology solution to freshly append new email data each time we start a project. Our five-step process unleashes our proprietary algorithm on your database records using known patterns for corporate domains (URLs) and using search technology to find email formats. Once our technology finds a match, we test for accuracy and append the correct email to your file.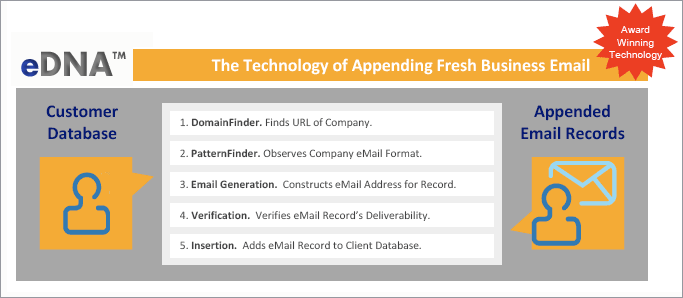 Will I Get Better Results? Our append quality is twice as high as the nearest competitor and we consistently prove deliverability rates of over 90%. We fully verify EVERY email we return to our customers using our SmartSender™ Verification System. We guarantee our service - we make good or your money back. It is as simple as that.
Appending Resources
B2B Appending Whitepaper


ListK Webinars


Appending Blog


Client Testimonials


Appending F.A.Q.
How long does the append process take?
We can process most files up to 100,000 input records in 12 - 15 business days (after all information is received and formatted properly). Larger files require a custom delivery quote. The reason it takes us a bit longer is we live verify every record to ensure deliverability and quality.

What type of email yield should you experience?
Your email yield depends on the quality and hygiene of the source file and the size of the companies in your database (propensity to have business emails that match the company's domain). Typically, you will see somewhere between a 15% - 65% yield from most files.

What is ListK's quality guarantee?
ListK stands behind all of our appended files. We consistently deliver 90%+ deliverable emails on our files and stand behind our work (see below.)

What is ListK's policy for hard bounce backs?
ListK stands behind all of its appended files. We offer a full refund for all VERIFIED hard bounces found within the first 30 days of the append being completed. Remember, bounces come in many different forms and may not have anything to do with the email address being correct. Clients send us their hard bounces, the creative used for the send and the specific platform they are using for deployment and we will approve actual hard bounces.

How much does it cost?
Our pricing on most appends is based on a pay-for-performance model plus a small fee for setting-up and processing the file. You only pay for good, verified emails we deliver. Specific price breaks are based on the size of the input file we receive.